Captain Mack,
On behalf of my family, I would like to thank you for all that you did on our cruise to Manhattan Beach. During this very difficult trip, you were both thoughtful and considerate. When we booked this we really didn\'t know what to expect. As we were driving back to our hotel we discussed how we couldn\'t have asked for a better Captain or a better yacht. We will most certainly recommend your services and will always remember you on that very important day.
Thank You Very Much,
Scott,Ruth,and Mark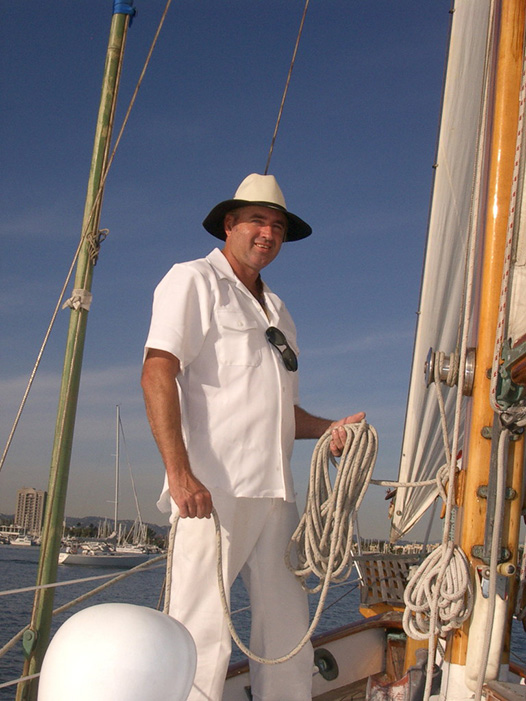 Hello, Mack.S
Thank you so very much for the photographs, and for the experience overall. You were a gracious and thoughtful host for our little event, and I deeply appreciate everything that you did to make it such a beautiful and respectful experience.
Sincerely,
Richard
---
These [pics] are so beautiful and clear. I did not even know you were taking them. Thank you. I will forward them to your new "apprentice- Junior Captain's Assistant- Shant". He loved steering and has not stopped talking about boat possibilities. Thanks for making a difficult journey so comfortable yet memorable and meaningful. Your kindness and thoughtfulness are very much appreciated.
Nora
---
Thank you, Mack
The pictures are beautiful. I want to let you know, before the service on the boat I was concerned how I'm going to say final good-bye to my mom. You made it so elegant and peaceful. With such a dignity. I would like to thank you from the bottom of my heart. Thank you for sending the memorial document. When my sister comes to the US next year (I hope), we'll contact you again. We want to take her to the same spot. Thanks again for everything,
Mimi
---
Hello Captain Mack:
Thank you for the photos and for chartering our memorial. What a day! You are an amazing person and the experience was just as my mother would have wanted. If you would like a thumbs up, or an endorsement please let me know.
Take care!
Valorie
---
Dearest Capt. Mack,
I just received these beautiful documents and I just cried!!They are so well made and so wonderful, I put one in the ziplock with the poems i kept that i read when we put all the ashes into the sea, and now all is complete, thank you again so very much and thanks for sending a few extra, maybe someone in the family someday will want one to keep....
THANK YOU AND MUCH LOVE AND ALOHA!,
Kira
---
Captain:
Greetings and thanks for the mail and pics. Thank you for handling William's burial at sea. It was a wonderful journey that Will would have been pleased. You are a consummate professional who blended the right formula of hospitality, cordiality, and quiet distance and space to give my family and friends both the grieving process and the enjoyment they needed on our voyage with you. As I told friends not present afterward it was a three-hour tour of another kind (wink and smile). We were quite impressed. You are stored in my contacts to use your services again if not to HIGHLY RECOMMEND you to others. Many thanks again. I look forward to receiving your packet to forward to the family when I receive it. On behalf of the Castro family and Will's friends many thanks again and many safe voyages to you.
Kind Regards,
Al
---
Hi Captain Mack,
Thank you again for yesterday. I couldn't have asked for a more perfect send off for my brother. I know he would have loved it. Thank you for being so kind and caring. It meant the world to me. Happy holidays to you and your wife.
Love,
Tina
---
comment: I wanted to thank you.
In the hospital room after my sister had died I realized after about ten very long minutes that no one knew what to do. How do you know what comes next if you've never dealt with this before? So I walked out of the room and to the nursing station and asked if someone could please come in because we had no clue and the whole thing was difficult enough.
When I was on your boat at first and feeling a little afraid that was a small part of it... we had Michi's ashes and when we got three miles out what was supposed to happen? Scattering a family members ashes is one of the most person and awful things you can do. Michi was my only sibling. There si no one on the face of the earth I can reminisce with for so much of my life especailly my childhood. I didn't realize that I was with her much more than my parents till she was gone. It's a strange realization.
For a complete stranger to be there during this very emotional thing is a little surreal BUT you made it as comfortable as anyone could, you were kind and uplifting (and funny) at the right moments but thoughtful and so extrodinarily compassionate at others. You knew we didn't know what was to happen and just took it upon yourself to say okay we will take the urn and this is how it happens and then you do this...
Do people thank you enough?
I think it takes a certain personality to do what you do and to do it well, to make people feel like it's okay... saying it takes a special kind of person is so Hallmark cliche sugary disgusting but what do you say when it's true? It does.
So thank you. It's a day I will of course always remember and so in turn will always remember you.
It's nice to be able to think about it and smile and cry at the same time and the smile... that wouldn't have been possible without you.
Michi (I never called her Michelle. She would have wondered if I had lost my mind if I had. She was Michi to me my entire life) was more a reckless spirit than a free one. She went to the edge and back again repeatedly but through everything she did she loved life and was generous and funny. That's what I want you to know... that and that she would have flirted with you the entire time had she met you.
I'm telling you this because it must be hard to get a sense of who these people were that you help to do this for so yeah... nowhere near perfect but a lot of fun. That was her. So thank you for everything.I can never repay you but please just know that you are appreciated and thought of.
Fondly,
Gioia
---
Dear Captain Mack Steagall,
My family and I would like to thank you for your hospitality. Although the occasion was sad, we really enjoyed our experience on board the "Amethyst." We are forever grateful.
Thank you.
Respectfully,
Oscar
---
nicely done and pretty photos. thank you for your sensitive handling of a challenging time for us!
Angela
---
Thanks so much for the pictures -- and the ceremony was everything we could have asked for. An excellent sending off. I'm still amazed how quite the ocean was that day. Thanks again for the memories.
Shannon
---
You should have a guestbook on your primary web pages. That way, a viewer could read what a wonderful journey we had on the 24th when you captained us out to drop our mother's ashes into the ocean.
You were a wonderful captain - skilled, gracious, knowledgable, uncomonnly courteous. Thank you for helping to make this solemn occasion both memorable and non-eventful
Sailing Cruises, Proposals and Dinner Cruises
Thank you so much for sending these. We had such a nice day. It was a real pleasure sailing with you. We would love to do it again.
Thanks again,
Amy
---
Thank you so much for a great sail yesterday! We had a wonderful time and Ben loved the surprise. The boat was gorgeous and everything was just perfect. I can't thank you enough. Here's a link to the 800 lb great white shark killed off the marina....be careful! Have a great week!
Best, Melisa
---
Hi Captain Mack,
Thanks again for everything. You made our engagement as memorable as possible. You where a great host and we couldn't have asked for a better time. I was wondering if you could email me the video and/or some of the pictures whenever you have time. My friends and family are dying to see them. Again, thank you for everything you did. We will never forget it!
Derek
---
Hello Captain Mack,
I just wanted to send a note along about our recent sunset sail on the Amethyst. I have to say I was a little concerned about booking a sailing trip on-line, and wasn't sure exactly what to expect. In the end, though, everyone agreed it was a fabulous evening out. The setup on the Amethyst was perfect to allow us to relax and catch up with friends we hadn't seen for a while. Even though the conditions were a little choppy on the open water, we were all quite impressed with how smoothly the boat handled the waves. It was evident by the smiles on everyone's faces that there wasn't anyone wishing they were someplace else. The extended tour around the marina afterwards also gave us the opportunity to enjoy some of the food and drink brought aboard, and I was especially appreciative of your historical overview of the marina and its development through the years.
Next time we're in the area, I certainly won't hesitate to book another trip on the Amethyst. Thanks again for making it a very enjoyable day, and one everyone will long remember.
All the Best,
Nick
---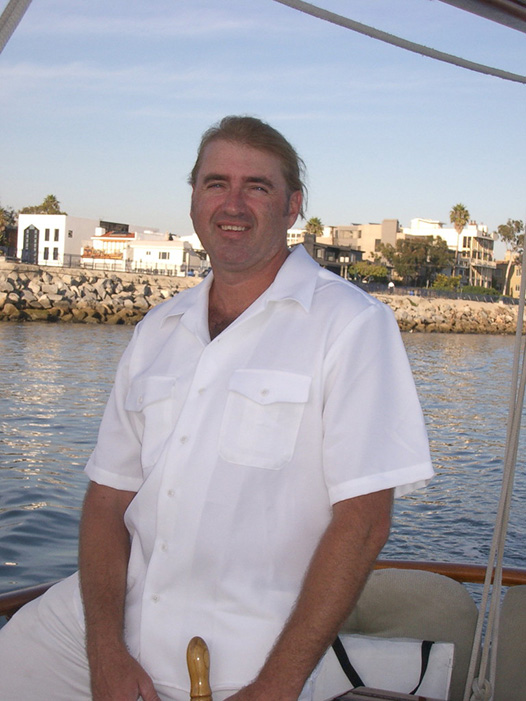 ---
Dear Captain Mack,
Vince and I just wanted to thank you again for the beautiful sunset sail yesterday. It was an amazing experience for us and meant more to us than we can adequately express. Your knowledge and expertise, and willingness to share those with us, made the day all the more memorable and fun. We are now more enthusiastic than ever to take lessons. We would like to purchase those sailing books that you showed us, if you would be so kind as to send us the titles and authors..they seemed like a great place for us to start prior to our lessons.
Once again, thank you for a wonderful day!
May the wind be always at your back.
Vashta and Vince
---
Capt. Mack,
I wanted to first thank you so much for making our engagement night so special. We have gotten so many compliments and everyone loves the story... especially that you are multi-talented and also played the viola.
Would it be possible to get a copy of the pictures you took please? We are going to be sending out pictures to friends and family of the evening shortly.
Thanks again,
-Mike
---
Dear Captain Mack,
Thank you very much for the great trip you provided for my husband Atef and "The Boys" yesterday. This is all they are talking about today. Other than being cold when the fog rolled in, they all had a super time and will always remember the great trip you provided.
Cathy
---
Captain Mack,
Thank you for the display of exceptional seamanship yesterday. Your highly competent professionalism made what might have been a trying experience a uniquely peaceful one. All on board enjoyed th experience. I do plan on recommending you and your vessel to anyone who expresses an interest in any sea-going excursions.
All the best.
Eric
---
Thank you so much for the photos! We had an amazing time. You went above and beyond.
Thanks again,
Emma
---
Hi Captain Mack!!
So sorry it has taken me a couple days to get back to you. This week is so busy already!
Thank you again! You helped make our dreams come true! It was the most incredible and amazing night of our lives.
Hope all is well with you. We have told everyone about you and the Amethyst! Stunning.
Thank you again!
Lauren & Dominique
---
Hi Capt. Mack!
Thank you so much for sending these so quickly!! They are amazing! We had the most incredible time last night! It was everything I imagined and so much more!! Thank you thank you thank you!! We will remember it forever!
Talk soon.
Best, Lauren
---
Captain Mack,
Thanks so much for the photos! They were better than a lot of the ones we took! Hope you had a good Thanksgiving! I still would like to give you a testamonial for your website if you want it, and I've already found two people who are interested in your services in the future. Again, thanks so much for everything!
Zack
---
Capt. Mack,
Thank you very much for the pictures that you sent us. We had such an incredible time that night, it was something that we will never forget. We have been telling everyone that we know about the beautiful boat, scenery and excellent service that you offer. This is something that I would recommend to anyone for any occasion. Thank you for making our night special and giving us a memory that we will always cherish.
Sincerely,
Amy and Sean
---
Hi Capt. Mack!!.. I just wanted to thank you once more for an awesome cruise. We had a GREAT time. Very romantic and very cool, it could not have been better. Thank you very much for your flexibility along the way. We were both watching the weather and it was nice to know that you were open to any option. You play the viola very well, and that was really cool as well. All the accomodations/services aboard were great, and the choice of food excellent. So good that we went back to the restaurant 2 days later for the jumbo shrimp!!. I wanted to ask you where you got the flower arrangement and whether you know if they offer delivery in that area (Marina Del Rey, El Segundo, etc). I can tell you I have been in the US 9 years and that is (REALLY) the best arrangement I have seen so far. Those are the kinds of arrangements I'm used to back home in Venezuela. Anyway, let me know about it. Finally, I am including some of the pictures I took I thought you might enjoy. Once again, thanks for a really nice afternoon, and be sure to know that I will recommend your services to anybody that may be interested in a private cruise. Thanks !!!
---
Hey Capt. Mack - thanks for the wonderful pictures. We enjoyed the trip very very much.
-Sri
---
Capt. Mack -
Thanks for a great sail. I heard nothing but good comments from my whole family on the way to the cars. I look forward to sailing with you again.
R.
---
capt. Mack,
Thank you for the amazing evening yesterday! your boat is incredible, and the entire experience was fun! Definitely pass those pics along when you have the chance! I meant to tip you before I left, and simply forgot, so if you want, I'll buy the pics.
Thanks again!
Mm
---
Dear Mack,
I wanted to thank you for the beautiful day we spent aboard your Amethyst. I could not have dreamed of a better day and your kindness and generosity really made it all fabulous. This is one experience we will never forget and you are largely reponsible for that; so from the bottom of my heart, thank you! We look forward to seeing you again, we truly loved meeting you!
I attached a couple of pictures!
Best, Chloe.
---
Thanks so much for the wonderful time. We had a really great experience. Really great. We appreciate all you did. I wish we could afford to do this every month. Thanks for the pictures too!
Alex and Kimberly