WEATHER IN SOUTHERN CALIFORNIA
Southern California offers year round sailing as the Mediterranean type of climate doesn't change much from season to season.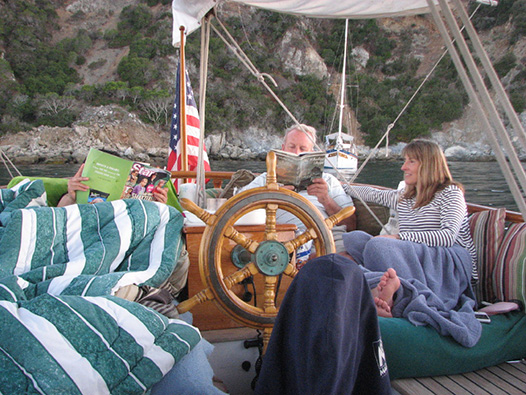 In our "Summer", which is from June through mid October, day temperatures are typically in the high 70s and low 80s, with night temperatures in the low 60s. Winds are light and variable late at night and in the early mornings hours, building during the day to 10-15 knots by mid afternoon, then decreasing after sunset. Very predictable weather in the Summer, and perfect for sailing!
During the "Winter" months, the daytime temperatures often call for shorts and t-shirts. However, it's a little cooler in the mornings, and you'll find yourself reaching for a jacket a bit earlier in the evening. A dry desert wind called a "Santana" occurs at times during the winter months. Hot, dry wind from the deserts inland blow out to sea, bringing clear weather, glorious sunsets and warm starry nights.
Weather Policy:
If, on the morning of your charter, it is either raining, or by the judgement of the Captain, too foggy or windy for safety, you may reschedule your charter at no additional cost!
Additional Information:
www.nwsla.noaa.gov