ABOUT AMETHYST
Amethyst is a fun yacht to be on!
Her spacious cockpit and commodious interior are perfect for sailing, touring about, lounging and relaxing. Stepping aboard, you enter the past age of sail, a time reminiscent of Baltimore Clippers, Spanish Galleons, Privateers and Square Rigged Ships. Gleaming varnish and polished oil lamps, Amethyst is "Romance of the Sea".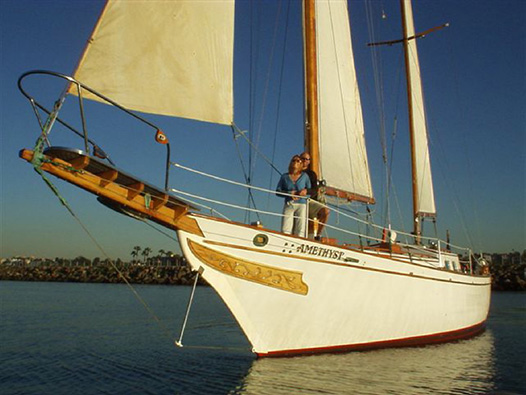 Impeccable brightwork and flowing lines placeher among the finest of yachts, drawing attention and admiration to her and her passengers in every port she enters. Amethyst is a lively sailor, and has won trophies in the Wooden Hull Yacht Clubs' Sailing Regattas.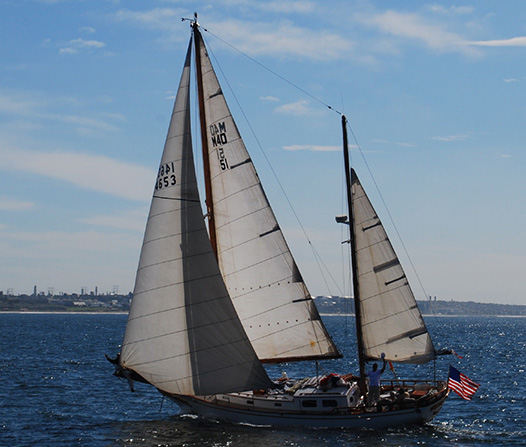 Amethyst is a traditional wooden sailing yacht, 46ft overall, and ketch rigged. She has a beautiful clipper bow and bowsprit, with teak decks running aft. The spacious cockpit is enclosed by an ornamented stern taffrail that is mounted over a true and traditional counter stern. Built in 1969 to the specific designs of the famous naval architect William Garden, she is a stout and safe vessel, USCG equipped and designed to handle the rigors of ocean sailing.
Capt. Mack keeps "Amethyst" in tip top condition. "Ship Shape" and in "Bristol Fashion" as it's said, maintaining all systems in first rate order.
Come and experience the ocean and sailing at its finest aboard the beautiful sailing yacht,
"Amethyst"